Successful bowling lanes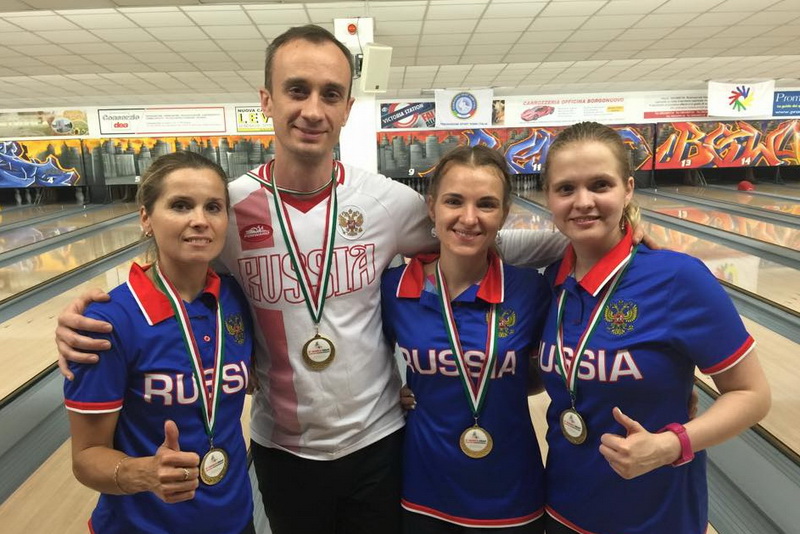 At the 3rd World Deaf bowling championships, held August, 20-30, the Russian bowling team won 9 awards – 3 gold, 2 silver and 4 bronze medals.
192 bowlers (73 women and 119 men) took part in the competitions from 28 countries worldwide: Argentina, Hungary, Ghana, Germany, Denmark, Ireland, Italy, Cyprus, Latvia, Macao (China), the Netherlands, the United Arab Emirates, Pakistan, Poland, the Republic of Korea (South Korea), Russia, Saudi Arabia, Slovakia, the USA, Taipei (China), Ukraine, Finland, France, the Czech Republic, Switzerland, Sweden, Estonia, Japan.
The following Russian athletes attended the championships: Arsen Akopyan, Vladimir Grigorev, Aleksey Drozhbin, Aleksey Savchenko, Nikolay Shershakov, Maxim Homudyarov, Ksenia Dudina, Olga Lotina, Nadezda Korablinova, Zhanna Moskalenko, Julia Golitsyna, Nadezda Shakbazyan, Vladislav Antipov (senior coach) and Sergei Prohan (coach).
Chinese Taipei, Korea, Russia, Sweden and Germany were the main leading competitors. It was the first time such championships were held under the new regulations. At the World and European championships winners and other placers used to be determined by the sum of 6 games: individual and team competitions. But at these competitions the new regulations came into force: the best 4 teams of qualifying tournaments reached the play-off. During this tournament semifinals and finals were held in which placers were determined.
The first gold medal to the Russian collection was added by women in the team competition (trios). Taking first place after the qualifying tournament, Ksenia Dudina, Olga Lotina, Nadezda Korablinova broke into the final round. Then they beat masterfully the Taipei trios and won the 1st gold medal in the national history at the World Deaf bowling championships in this discipline.
The most successful event to the team, trained by Vladislav Antipov, was a 5 players' competition, in which our team got 2 gold medals.
According to the qualification results, our men's team took the first place. In the medal round the Russian fives defeated Germans and added another one gold award to the collection.
After the qualifying tournament Korea, Taipei, Russia and Ukraine, in that order, reached the women's fives final. Firstly, Russians broke the Taipei team, the previous championship leaders, and then defeated Koreans and won the gold medal.
Zhanna Moskalenko's, Nadezda Korablinova and Olga Lotina success should also be mentioned. Moskalenko won 1 silver medal in the individual competition; Korablinova and Lotina got the silver medal in doubles.
More than that, Akopyan and Savchenko gained 1bronze medal in doubles and Akopyan and Nadezda Korablinova also won the bronze medal in "masters".
The best 3 teams of medal table became the following: 1-2nd places Russia - 9(3-2-4) and Korea - 9(3-2-4), 3rd place Sweden - 5(3-1-1).
Photos taken from: wdbcitaly2015.com
The RCDS press service