Silver Baden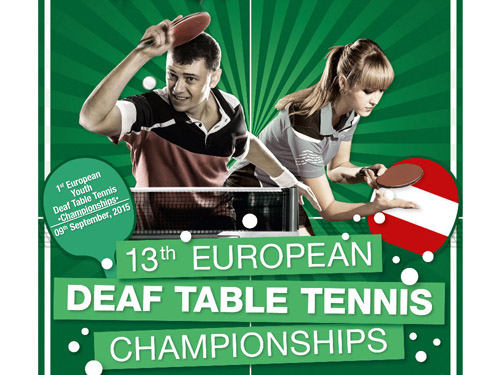 The 13th European Deaf Table Tennis Championships 2015 with 7 sets of awards up for grabs were held from September 6 to 12 in Baden, Germany. The Russian team won 4 silver and 2 bronze medals.
91 athletes from 15 European countries took part in the competitions: Austria, Belgium, Bulgaria, Hungary, Great Britain, Germany, Lithuania, Norway, Poland, Russia, Serbia, Slovakia, Ukraine, Croatia and the Czech Republic.
The following athletes represented Russia at the championships: Ksenia Markovich, Diana Gubanova, Anna Kondratova, Anastasia Egorova, Asilbek Suynaliev, Vitali Chulkov, Dmitry Pischuk, Roman Chadaev.
The continental championships started with the men's and women's team competitions. The Russian men's team lost to the German team in the quarterfinal and lost chances for medals and ranked 5th. Our women's team traditionally won the 2nd place and suffered a defeat at the hands of opponents from Ukraine.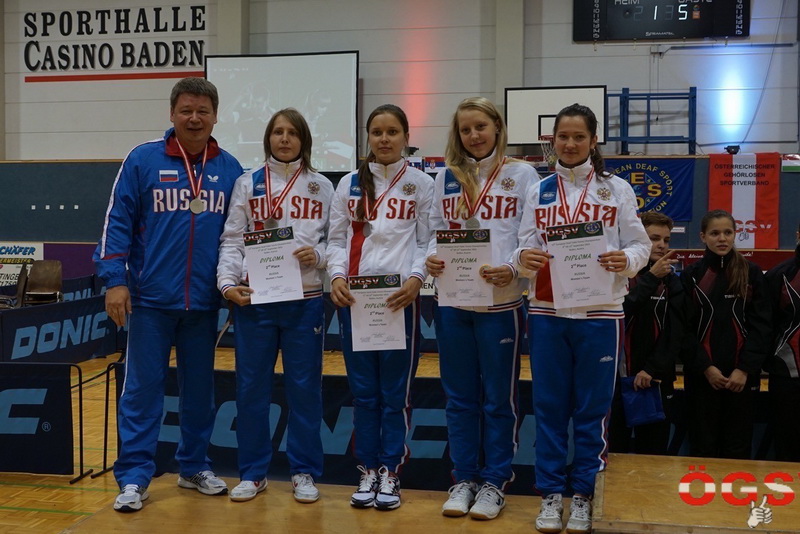 Chulkov and Pishuk's couple achieved the best result in men's doubles and won bronze medals. In the semifinal they lost to the future winners from Slovakia – Keynat and Tutura. Anna Kondratova and Ksenia Markovich lost 2:3 (10:12,11:5,11:8,16:18,8:11) to the Ukrainian doubles in the final and got silver medals. Egorov and Gubanov won bronze awards in doubles. An hour after the women's doubles final, Kondratova and Pischuk, tired of the previous challenges, were defeated by Keynat and Jurkova from Slovakia in the mixed doubles final.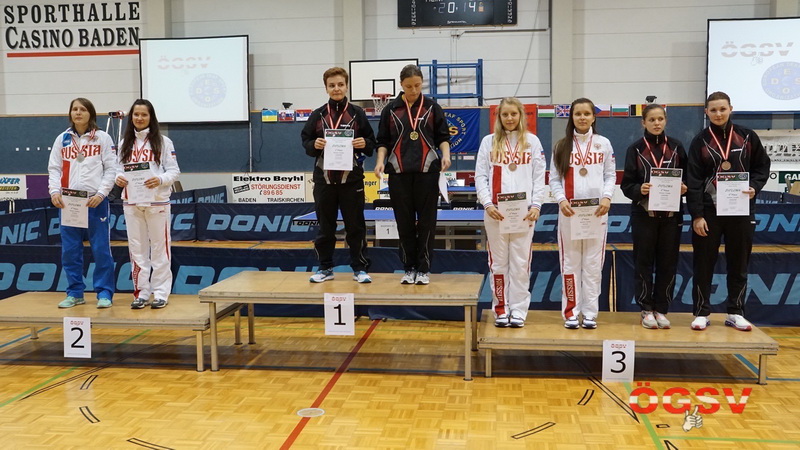 In individual competitions Suynaliev, Pischuk and Chulkov stopped at the quarterfinal stage. Anna Kondratova, the Russian team leader, confidentially overcame the opponents in the group stage; in the quarterfinal she beat Larisa Starikova from Ukraine (4:2). But she would remember afterwards the game with the old adversary – Maria Vasilieva (Ukraine): loosing 0:3 at the beginning of the game, Anna pulled herself together and snatched victory (4:3 (4:11,2:11,7:11,11:9,11:8,11:4,13:11)). In the final Anna was lacking in strength and lost to the Slovakian athlete - Eva Jurkova. Anna Kondratova earned another one silver medal to the Russian team.
The European Deaf Youth Championships were host also as a part of the Championships on which the Russian team was represented by Ksenia Anisheva,Anastasia Seltsina, Maria Nebroeva, Alena Lopina, Fedor Grigorev, Egor Astafjev, Nikita Iakovlev, Denis Ilin. Elena Shagieva was a senior coach of both teams.
Russian youth's results:
Men's doubles
gold - Е.Astafjev/F.Grigorev
bronze - N.Iakovlev/D.Ilin
Women's doubles
silver - М.Nebroeva/A.Lopina
bronze – D.Gubanova/А.Seltsina
Mixed doubles
silver – F.Grigoryev/A.Lopina
bronze - D.Ilin/D.Gubanova
Men's singles
silver – Egor Astafjev
bronze – Fedor Grigorev
Women's singles
bronze – Alena Lopina
bronze – Diana Gubanova
The RCDS press service